Autel MaxiPro MP808K Diagnostic Tool
Autel MaxiPro MP808K Diagnostic Tool This Autel MAXIPro MP808, with powerhouse speed and performance, offers a wealth of diagnostic options and functions, as well as OE-level nosology, bi-directional management, key coding, special services, and more. Booting in seconds and sporting an enormous 7-inch show, this Diagnostic Tool provides you a...
customers are viewing this product!
Autel MaxiPro MP808K Diagnostic Tool
This Autel MAXIPro MP808, with powerhouse speed and performance, offers a wealth of diagnostic options and functions, as well as OE-level nosology, bi-directional management, key coding, special services, and more. Booting in seconds and sporting an enormous 7-inch show, this Diagnostic Tool provides you a fast thanks to get you right down to business. Autel MP808K automotive scanner comes with Active Tests/Bi-Directional operation that permits you to perform numerous active/functional tests to visualize the integrity of a system or element and therefore the in operation conditions of varied automotive systems or sub-systems. It will perform ABS machine-controlled harm, Pump Motor takes a look at, and checking European data and etc.


The Autel MP808K could be a skilled diagnostic scan tool that may perform OE-Level identification on all obtainable vehicles modules, Key Fob Programming, Active Tests and comprehensive reset and repair functions like ABS Brake harm, Oil Reset, SAS standardization, reset emergency brake pads once replacement, DPF regeneration, convenience writing, Transmission Adaptation, Throttle Adaptation and etc. With complete capabilities for codes, live data, active take a look at, European data, adaptation, matching, etc, the MP808K automotive diagnostic scanner could be a nice Diagnostic Scanner decide for technicians and residential mechanics.
Auto bleed and auto VIN scan.

MaxiVCI Mini Wireless Support.

 allowing remote vehicle diagnosis.

allows home technicians and mechanics to bleed air out of ABS module and pump motor test.
Specifications:
Mark: Autel
Power supply: Runs on batteries
Item dimensions LxWxH: 9.4 x 5.9 x 1.4 inches


Autel MaxiPro MP808P Highlights

1. Autel MaxiPro MP808P Kit Support Multi-language
English, Traditional Chinese, French, German, Spanish, Portuguese, Dutch, Polish, Swedish, Korean, Japanese, Russian, Italian.
( Please tell us about your S/N of machine to activate the language you need after you get it. Thanks~)
2. Autel MaxiPro MP808K Supports One Year Warranty & One Year Free Update, update cost is 350USD/year, after one year, if you need, you can pay for autel mp808k update service here
3. Cost-Effective Alternative for MS906, Best Upgrade Choice for DS808
Having basically the same functions as MS906, Autel MP808K becomes a perfect cost-effective alternative for Autel MS906 scan tool.
Offering wider vehicle coverage than DS808 and MP808, MP808K auto diagnostic scanner is a great choice to upgrade your vehicle diagnostic tools
4. Wide Vehicle Coverage: Extensive vehicle coverage for more than 80 US, Asian and European vehicle makes, extra OBD1 adapter for support more vehicle.
5. Comes with Complete Autel Connect Kit (OBD1 Adapters) which offers OBDI vehicle coverage
6. Smart AutoVIN technology for identifying vehicles easily
7. One-stop multitasking designed for ideal management of workshop operations to keep all data files, customer info, and vehicle records well organized.




Notice: Autel MP808K has the same functions as MP808, but it comes a kit of adapters. If you want to do TPMS function please choose Autel MP808TS on our site.





I. Full System Diagnostics with Bi-directional Control

Autel MP808 can access ALL vehicle systems and subsystems, such as Body, Chassis, Powertrain, Network and etc., to perform a comprehensive scanning on ECUs to locate fault systems and retrieve DTCs.

1. To diagnose Brake System if you feel the brake pedal is mushy and notice unusual odor or noise, etc. A properly operating brake system is critical to ensure safe vehicle control and operation;
2. To diagnose the Emission System if the system is affected by vehicle age or poor quality fuel. A good emission system reduces harmful gases to a large degree and protects you from being fined;
3. To diagnose the Fuel system if the vehicle won't start or the "Check Engine" light is illuminated. Check car's fuel system regularly ensures the best performance of your car with the lowest emissions;
4. To diagnose Transmission if your car is slipping or difficult to shift. The system plays an important part in the overall performance of your car;
5. To diagnose Wiper System if you observe chattering or streaking wiper. If the car is not regularly checked, the accident might happen because you can't see clearly;
6. To diagnose Light System if you see rapid signal blinking or dimming lights.
 And many more ...




II. ACTIVE TESTS+ ABS BRAKE BLEEDING

ABS Brake Bleeding: Autel MP808K car diagnostic tool has bi-directional control capability and is capable of performing ABS brake bleeding function to bleed air out of the ABS module and saves you time and money taking your car to a dealership or shop.

III. Most Userful 23 Reset & Special Functions:

The diagnostic scanner is a professional tool aiming at providing mechanics and DIY enthusiasts with access to the systems to perform various maintenance and services.

1. Oil Service Reset – Performs reset for the Engine Oil Life system, which calculates an optimal oil life change interval depending on the vehicle driving conditions and climate, and turns off the warning light;
2. TPMS Service – Quickly looks up the tire sensor IDs from the vehicle's ECU, as well as to perform TPMS programming and reset procedures after tire sensors are replaced;
3. EPB Service – Initializes the throttle actuators to the default state for regulating throttle (or idle engine) operations accurately;
4. ABS/SRS Services – Performs various bi-directional tests to check the operating conditions of both the Anti-lock Braking System and the Supplemental Restraint System;
5. SAS Service – Performs steering angle adjustment, clears steering sensor fault memory and turns off steering wheel warning light;
6. DPF Regeneration Service – Clears particulate matter from the DPF filter to stabilize the filter performance.
7. BMS Service - Perform a reset on the vehicle battery for clearing the fault information and re-match the battery;
8. Brake Bleed - When your brake pedal becomes soft and inconvenient to control, this diagnostic tool can perform bi-directional tests to check the Anti-lock Braking System;
9. IMMO Service - Clear the lost car key's information and program the new key into the ECU database to protect user's car from being stolen;
10. Injector Coding - Make the cylinder better identify injector after ECU or injector is replaced;
11. SAS Service - to perform calibration for the Steering Angle Sensor and clear steering sensor fault memory;
12. Throttle Adaptation - initialize the throttle actuators to the default state for regulating throttle (or idle engine) operations accurately
13. Headlamp
14. Suspension
15. Lang change
16. Odometer
17. Seats
18. CHG tire size
19. TEC learn
20. WIN DR ROOF
More...


IV. Auto VIN & Auto Scan

Autel MP808K automotive diagnostic tablet comes with the latest VIN-based Auto VIN technology to identify vehicles and retrieve vehicle information at a single touch. Combined with the Auto Scan technology, MP808K performs a comprehensive scan automatically overall vehicle ECUs to locate system faults and retrieve DTCs. It's a great professional scan tool that can perform all systems diagnoses efficiently.

V. Key Fob Programming

Autel MP808K professional automotive scanner comes with IMMO Keys function to protect your car from being stolen.

All Keys Lost: All keys missing, create a new key to the vehicle
Reset Key: Relearn a key
Add New Key: Add an extra key to the vehicle



VI. Autel MP808K Helpful Functions For Mechanics & Auto Repair Shops

* MaxiFix – Autel MP808K comes with an online troubleshooter database that provides you with all common DTCs databases for most vehicles and allows you to network with other users.
* Remote Desk – MP808K works with TeamViewer Quick Support to enable you to receive ad-hoc remote support from Autel's support center, colleagues, or friends, by allowing them to control your tablet diagnostic tool on their PC.
* Shop Manager – MaxiPro MP808K owns an application that helps you deal with the daily workshop business and improve customer service by helping you manage the workshop information, customer information records, and much more.
* Data Manager –MP808K Supports to store, print, and review the saved files.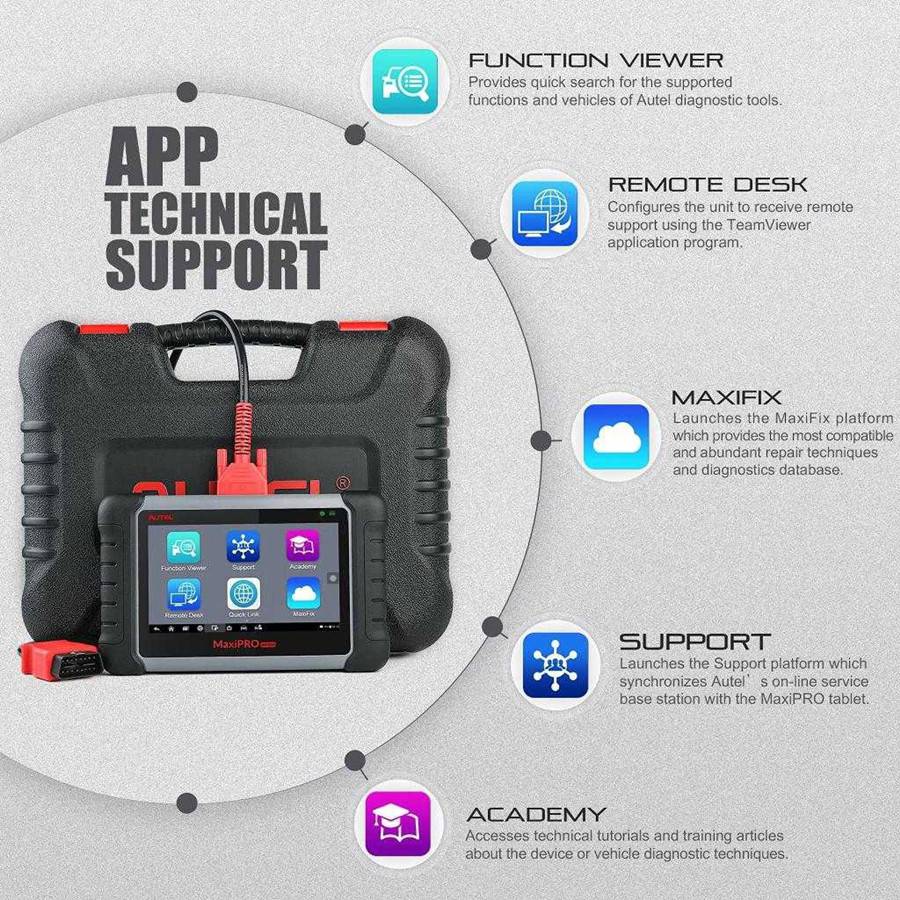 Extensive Vehicle Coverage

More than 80 Brands, USA/ Europe/ Asia vehicles.
 
AU Ford, Holden, Buick, Cadillac, Chevrolet, Chevrolet MPV, Chevrolet Truck, Chrysler, Ford, Geo, GM, Hummer, Hyundai, Kia, Pontiac, Satum, Scion, Workhorse, Acura, Daihatsu, Honda, Infiniti, Isuzu, Lexus, Mazda, Mitsubishi, Nissan, Subaru, Suzuki, Toyota, Daewoo, Abarth, Alfa Romeo, Audi, Bentley, Benz, BMW, Bugatti, Citroen, CnFiat, Fiat, Jaguar, Lancia, Lamborghini, Landrover, LT3, Maybach, Mini, Opel, Peugeot, Porsche, Renault, Rolls-Royce, SAAB, Seat, Skoda, Smart, Sprinter, Vauxhall, Volvo, VW...

NOTE: It does not support Brazilian local cars!




Autel MP808 vs Autel MK808 vs Autel MS906 vs Autel MP808TS




Autel MaxiPRO MP808 Kit vs Autel MaxiDAS DS708 / DS808

Autel MP808K is the upgraded version of MaxiDas DS708 and has the same functions and features as the Autel DS808, but at a lower price than DS808. It provides either the mechanics or the DIY enthusiasts a great solution for vehicle troubleshooting as it is competitively priced and has most of the advanced functions required.

Autel MaxiPRO MP808K Specification:

1. Operating System: Android 4.4.4
2. Processor: Cortex-A9 processor (1.5 GHz)
3. Memory: 32GB
4. Display: 7-inch LCD capacitive touchscreen with 1024*600 resolutions
5. Connectivity: Mini USB 2.0 /USB 2.0 /Wi-Fi / Micro SD card (supports up to 32GB)
6. Sensors: Ambient light sensor for brightness auto changing
7. Audio Input/Output: Input: N/A Output: buzzer
8. Power and Battery: 3.7 V/3200mAh lithium-polymer battery charges via 5 VDC power supply
9. Tested Standby Time: Around 4.5 hours of continuous use
10. Battery Charging Input: 5 V /1.5A
11. Power Consumption: 500 mA (LCD on with default brightness, Wi-Fi on) 3.7 V
12. Operating Temp: -10 to 60°C (14 to 140°F)
13. Storage Temp: -20 to 70°C (-4 to 158°F)
14. Operating Humidity: 5% - 95% non-condensing
15. Dimensions (W *H * D): 237.8 mm (9.4£¢) *148.6 mm (5.9£¢)*35.5 mm (1.4£¢)
16. Net Weight: 788 g (2.42 lb.)

Autel MP808K User Manual:



 
Package includes:

1PC x MaxiPro MP808K
1PC x Power Adapter
1PC x Mini USB Cable
1PC x Main Cable
1PC x User Manual
1PC x Quick Reference Guide
1PC x for Benz-14 (for EU Version)
1PC x for Chrysler-16 (for US Version)
1PC x for BMW-20
1PC x for Kia-20
1PC x for Nissan-14
1PC x for GM/Daewoo-12
1PC x for Honda-3
1PC x for VW/AUDI-2+2
1PC x for Mitsubishi/Hyundai-12+16
1PC x for Benz-38
1PC x for PSA-2
1PC x for Fiat-3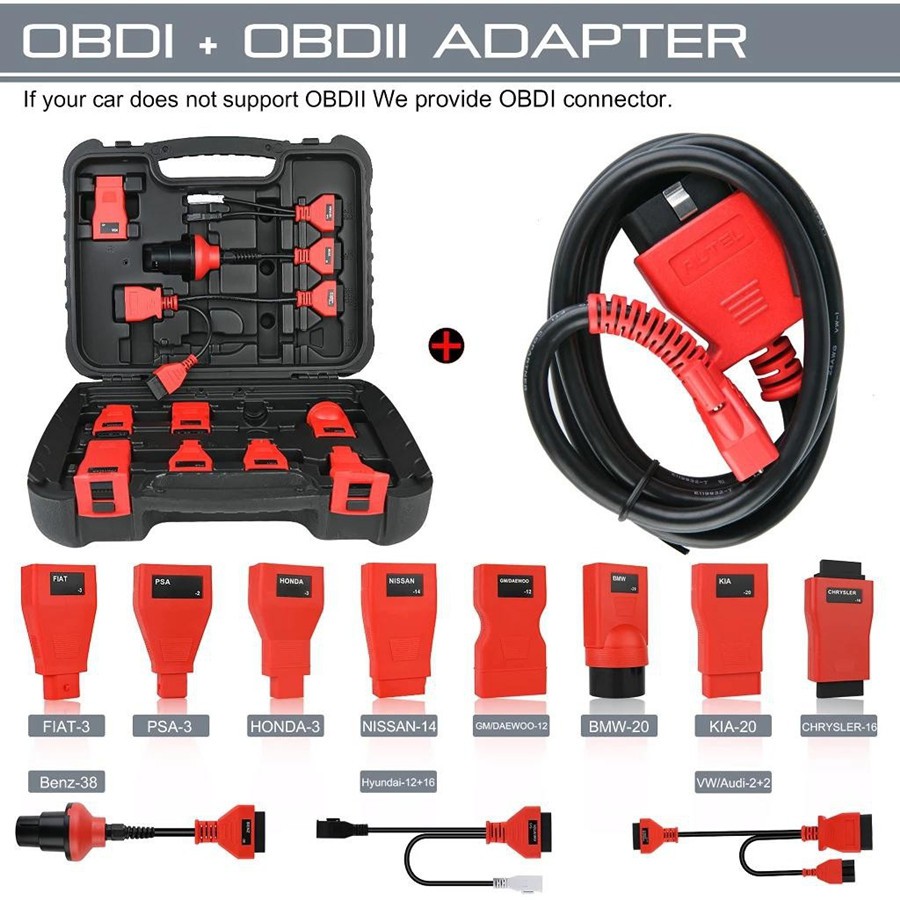 Review:

Review 1. Excellent product for a great price. As a Ford mechanic for 15 yrs it was difficult to find a scan tool that could perform some of the same functions as the ids Ford platform. I have used the snap-on, launch, and the corn well tools brand and this one exceeds them by so much. I would highly recommend this to anyone in the market for a scan tool at a fair price.

Review 2. I used it on a 2001 Audi TT. I plugged it in, turned on the ignition, pressed a button & it identified an inefficient catalyst. Probably due to me fitting an aftermarket exhaust system., The diagnosis was in text, not just a code that needs to be looked up. Another press of a button & the fault code was deleted.
It works as described, no issues at all. Highly recommended, it does the job.

Review 3. Used it on my 6 series BMW, just unwrapped it and plugged it in. Immediately shows the fault/codes and a simple read-out allows quick deletion so pays back the cost twice over rather than a trip to the garage, excellent.
For Large Quantity Order Or Dealer
We product wholesale price for customers, if you have large order please contact us by email or whatsapp to get better price. By the way, we can also provide dealer shipment for your requirement.
we will provide order tracking numbers whenever the order status is changed into "Shipped" status. The shipping company's tracking number will be posted into every customer's account page. You will be notified by your registered email with this tracking number. Along with tracking number, customers will enter the shipping company's official website to check the shipping status of your package.
The following are some links of express companies.
China Post: https://www.17track.net/en
DHL: http://www.dhl.com/en.html
EMS: http://www.ems.com.cn
TNT: http://www.tnt.com
FeDex: http://www.fedex.com
UPS: http://www.ups.com.cn